Welcome to the Blue Bronna Professional Outfitters Website.
We have been bringing hunters on memorable hunts throughout Alberta Canada for over 25 years.  Today we are proud to offer Archery and Rifle Trophy hunts for:
Blue Bronna Outfitting is a medium size company usually having 4-6 hunters in camp at a given time with large areas for each guest to hunt in.  Most hunts are done with one guide to one hunter unless requested otherwise.  Western Canadian hospitality can be expected with hunts being done from comfortable bush tent camps in the mountains and Boreal forest or staying at our home for prairie deer hunts. Our goal is to find you the animal you are looking for as conveniently as possible.
The philosophy which this Blue Bronna was founded on remains the same today.
"We hunt game in the best areas during the
best times of the year with the best staff."
Our People
At Blue Bronna our people
make the difference.
While successfully running a couple other business's Glenn and Donna Brown founded Blue Bronna Outfitting taking on a few hunters every year. Gradually as more and better guides became available they increased the business to a size which was hands-on-manageable yet big enough to provide professional year round service. Today more than half the hunters are return hunters with most new hunters coming because of a referral.
Glenn Brown grew up on a farm in rural Saskatchewan. Hunting and trapping were a way of life with hard work expected and long hours the rule rather than the exception. After high school Glenn went on to college and finished his education at Fresno State with a masters in Physical Education and Outdoor Pursuits. While going to school he made the time to hunt every year and started taking his buddies along, supplying the gear and knowledge to get them safely in and out of the wilderness areas they hunted.
Blue Bronna has several guides, a few of whom have been with us for several years. New guides are still added from time to time.  In the outfitting business we are only as good as our guides.
Where We Hunt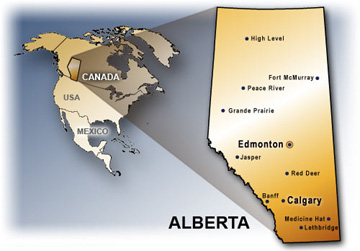 At Blue Bronna we hunt throughout the province of Alberta Canada.   Because of the very diverse topography including mountains, foothills, plains, and boreal forest, Alberta offers excellent hunting opportunities for our clients.
When purchasing the rights to the Wildlife Management Areas (WMU) we now hunt in, we plotted on a map of Alberta the locations where the top ten typical white tail deer, mule deer, elk, moose, and black bear came from. We then purchased allocations in these areas with the exception being elk. Our elk hunting is done in a unit which is known by the Alberta biologists as having the largest herd of elk in Alberta.