In Southern Alberta we have
both bow and rifle
Elk rut hunts.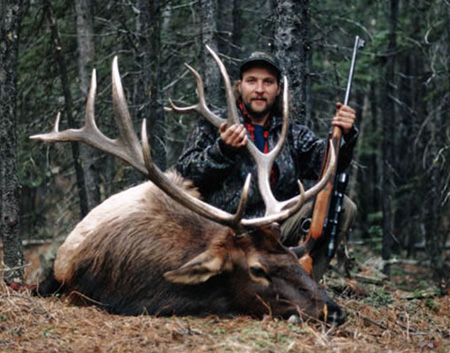 Bow Hunts
We have a short pre-rut bow season running from September 1st until September 16th. This is an awesome hunt with generally very good chances at 300" + bulls. Chances of encountering other hunters are slim and generally we have over 800 sq. miles to hunt in. We take only 4-6 hunters during this time and usually suggest two on one hunts as more than one bull is generally called in at a setup. Our success rate has been very high rivaling that of our rifle hunters.
Rifle Hunts
Alberta's rifle season opens on September 17th which makes this one of very few places where elk can still be hunted during the rut with a rifle. This early season hunt has been very much in demand over the past few years and may be a prime reason for Blue Bronna achieving a 80-90% shot taken rate with greater than 70% take home rate. We ask hunters not to shoot less than a 5 pt. bull as small bulls are easy to call in and we generally can find a better bull during the course of a hunt.
Our Hunting Area
(Click on either on map for larger version)
Rifle Hunt WMU 402
This rugged area is located 100 miles north west of Lethbridge and 100 miles south west of Calgary.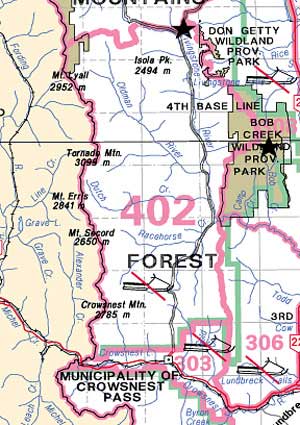 Current Hunting Area Weather
°
Weather from OpenWeatherMap
Our Elk Hunts
When We Hunt
Our Elk Hunt Dates are as follows:
2014
Bow Rut – Sept 1 – Sept 16 – 8 Day Hunts
Rifle Rut – Sept 16 – Oct 7 – 8 Day Hunts
Rifle Elk/MD Combo  – Sept 24 – Nov 2 – 8 Day Hunts
2015
Bow Rut – Sept 1 – Sept 16 – 8 Day Hunts
Rifle Rut – Sept 16 – Oct 7 – 8 Day Hunts
Rifle Elk/MD Combo – Sept 24 – Nov 2 – 8 Day Hunts
Camp
Accommodations are generally bush tents with bunk beds and wood stoves. You may hunt from a spike camp accessed by ATV or horseback. During the early season the elk are generally closer to roads so we do use mobile camp trailers as well as the tent settings. In September and early October the weather is generally very nice with warm days and frosty nights but heavy snowfall can occur any time in the mountains. Although November can have cold (-20) and snow it can also be snow free and warm so hunters need to be prepared for any type of weather. Rain is not usually expected in any serious amounts.
Prices
Please contact us for prices or for more information.
Rates Include
Services of a qualified guide or guides
Meals, and lodging during contract days
Transportation in the field
Rates DO NOT Include
Airfare or other transportation costs to the field.
Shipping of trophies or meat.
Hotel rooms before or after the hunt.
Licence or Tags
Taxidermy
Meat care – $2.00 per pound.  If you intend to leave your meat here, or give it away, it must go through a processor, the cost of which is approximately $2/lb