Blue Bronna offers Western Canadian Moose hunts in different areas.  For those of you looking for a more comfortable moose hunt we have 4 hunts available annually from our home in the south central farm area of Central Alberta.  Those wanting a more traditional hunt may favour the calling season Boreal Forest hunt of north Central Alberta.
Central Farm Land Moose
This hunt is taken from our home in Central Alberta.  The hunt is post rut in the month of November unless taken with archery equipment.  If this hunt is taken with a bow it can then be hunted during the month of October.  Trophy expectations are for moose in the 45" to 55" range.  Transportation is usually trucks to the area hunted with walking or stand hunting as the preferred method.  Lodging consists of comfortable rooms with washrooms and a common area for relaxing and socializing with other guests.  Food is usually breakfast and supper in traditional home cooked Canadian style with lunches being bagged or at a local restaurant.
Hunt Dates:
Archery – All of October
Rifle – All of November
Price:  Please contact us for prices or for more information.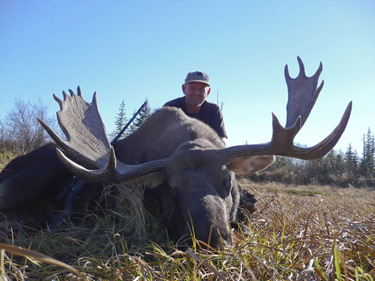 Northern Moose Hunting Area
Weather is usually sunny with cool nights but snow and winter weather can happen at any time after Sept. 15th in this area. Temperatures are usually 60 degrees in the day dropping to around 30 at night.
---
Hunt Dates:
2014
Bow – Oct 1 – Oct 18  – 8 Day Hunts
Rifle – Sept 22 – Oct 10  – 8 Day Hunts
2015
Bow – Oct 1 to Oct 18 – 8 Day Hunts
Rifle – Sept 22 – Oct 10 – 8 Day Hunts
Camp
We have a base camp with wall tents, bunks, and wood stoves in the center of the zone which is accessible by vehicle. We generally use ATV's to get us to locations where there are bulls and then spend the morning and evenings calling on lakes or swamps. In some circumstances we will use spike camps on tough to reach lakes or areas of the zone.
Transportation
Canadian Moose TrophyHunters can fly into Edmonton and drive to our base camp approximately 3.5 hours away or they can fly into Slave Lake and drive approximately 1 hour.
Prices
Please contact us for prices or for more information.

Rates Include:
Services of a qualified guide
Meals, and lodging during contract days
Transportation in the field
Rates DO NOT Include:
Airfare or other transportation costs to the field.
Shipping of trophies or meat.
Hotel rooms before or after the hunt.
Licence or Tags
Taxidermy
Meat care – $2.00 per pound.  If you intend to leave your meat here, or give it away, it must go through a processor, the cost of which is approximately $2/lb