Blue Bronna Outfiitters are finding more and better quality bucks than ever. Any hunter can expect to see bucks in the 135" range daily with a chance at a buck over 150"s during the course of a weeks hunt.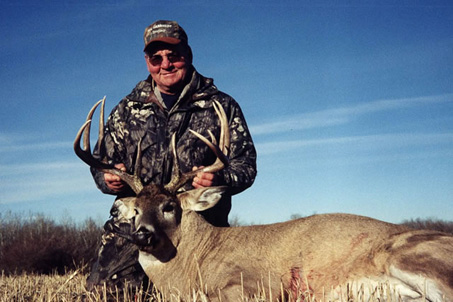 Bucks in the 160-180" range have been regularly sighted. With the help of our great guides and a little luck booner bucks are possible. Remember even in Alberta a booner is only found in 1/700 bucks harvested. As always the key to shooting a larger buck is passing up the smaller ones.
Our Hunting Area
(Click on  map for larger version)
Our White Tail Deer Hunts
When We Hunt
Our White Tail Deer Hunt Dates are as follows:
Bow – Oct 16 – Oct 31 – 8 Day Hunts
Rifle – Oct 31 – Nov 30 – 6 Day Hunts
Camp
White tail hunts are done from our home in Three Hills, 70 miles north east of Calgary, Alberta. Lodging is in clean rooms with indoor washrooms, showers and clothes washer & dryer available.
Prices
Please contact us for prices or for more information.
Rates Include
Services of a qualified guide or guides
Meals, and lodging during contract days
Transportation in the field
Rates DO NOT Include
Airfare or other transportation costs to the field.
Shipping of trophies or meat.
Hotel rooms before or after the hunt.
License or Tags
Taxidermy
Meat care – $2.00 per pound.  If you intend to leave your meat here, or give it away, it must go through a processor, the cost of which is approximately $2/lb